The Complete Guide to Vintage Children's Records
$25 + $8.00 s&h in the USA
About the Book
Purchase Info
Awards
Sections
Editorial Reviews
Reader Reviews
About This Book
The Complete Guide to Vintage Children's Records: Identification & Value Guide
This 432 page reference book represents a first of its kind: an almost complete listing and price guide to vintage children's records. Though the content is mainly dedicated to 78rpm records, a few early 45rpms are included. This book attempts to cover all 78rpm kiddie records made in the United States. The dates of coverage range from the 1890s to the 1960s, with most of the listings being from the 1940s and 1950s, the period of time that I refer to as the 'Golden Age' of children's records. In addition to brief background notes and histories of hundreds of obscure as well as famous record companies, there are listings for nearly 14,000 records and 450 record labels, making this the most complete discography of its kind ever in print. Most entries have never been listed in a reference book. There are hundreds of color images, many never before seen by collectors. Values are stated in two condition categories: excellent/mint and good/very good.
Use the KIDDIE REKORD SEARCH to locate any listing in the Price and Identification Guide section of the book.
Note: your book will be personally autographed by the author.
Purchase Info
Price of Book: $25.00 + s&h
S&H charges:
USA: Media Mail: $8.00
International: $50 (7 to 10 business days)

I accept payment in US funds only via PayPal. For your convenience, a direct link to my PayPal account is placed below./p>
Awards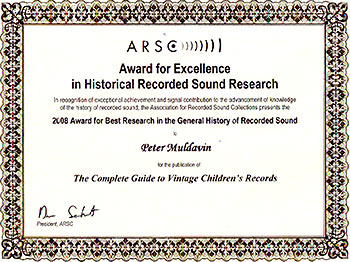 ARSC (Association For Recorded Sound Collections) Award for Excellence In Historical Recorded Sound Research 2008 Award For Best Research in the General History of Recorded Sound.
Founded in 1966, the Association for Recorded Sound Collections, Inc. is a nonprofit organization dedicated to the preservation and study of sound recordings—in all genres of music and speech, in all formats, and from all periods. The ARSC Awards for Excellence recognize outstanding published research. The membership of more than 1000 knowledgeable, passionate, helpful members who really care about sound recordings makes this award uniquely satisfying.



Editorial Reviews


Antique Phonograph News (Journal of the Canadian Antique Phonograph Society), March-April 2008, David Lennick



Copley News Service, April 16, 2007, Linda Rosenkrantz



Antique Week, March 26, 2007, Don Johnson



Midwest Book Review, June 9, 2007 Peter Muldavin's COMPLETE GUIDE TO VINTAGE CHILDREN'S RECORDS provides a catalog of values paired with color photos for almost 13,000 records on over 450 labels. Many entries are unique to this reference, which offers a nearly complete listing of vintage children's records, primarily in the 78 RPM and early 45 RPM formats. The comprehensive coverage for nearly all 78 RPMs in the USA can't be beat.