About Me, Peter...
Why am I collecting kiddie 78rpm records? How long have I been doing this?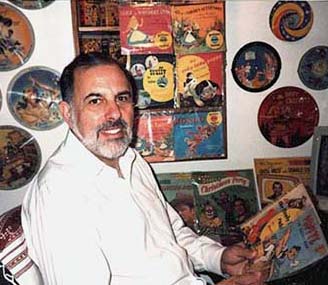 I have been collecting vintage children's records since 1991. My collection has become the largest of its type in the world! Even though I had been collecting many other "things" (baseball cards, Big Little Books,comic books, stamps, coins, etc.) the 78 rpm children's records quickly became the most rewarding. Every other collection I was compiling had already been heavily "price-guided". "Virgin" finds were almost impossible and prices were going higher and higher. When I bought my first kiddie record, it was because I saw it in a used record store and remembered it from childhood. When I went to find a price guide to see what it was worth and to get a list of other records to look for, to my surprise there was nothing published. I started taking out "wanted to buy ads" in antique newspapers, flea market magazines, etc., and I was literally swamped with responses. People had these records sitting in their attics and basements but didn't know what to do with them. There was no established hobby yet.

So I decided to become an "expert" by getting to know what existed. I have recently published "The Complete Guide To Vintage Children's Records", available directly from me on this website. I like to buy, trade, and sell kiddie 78-rpm records. And copyright permitting, I can also provide custom MP3s of just about any kiddie 78-rpm record you seek.
Since I have over 12,000 vintage records in my collection, the chances are more than excellent that I have just the one you might be looking for. See the 'Order MP3s' page on this Website for further details on pricing, etc. Or try the Search For A Kiddie Record.

Thanks for visiting. Enjoy!