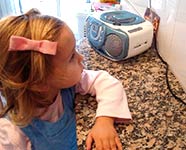 Frank Luther has a new fan! I'm so glad I was able to introduce my 2 yr. old to one of the favorite records of my childhood. She loves it and often asks to hear "the baby show", as she has decided to call "A Child's First Record." I'm not sure why I was listening to a 50s record in the 70s as a kid, but I loved it, and so does Gloria, so Luther has several generations of fans! Thanks for making that possible. My husband has become a fan too!
Wendy L.
Figueres, Spain
---
This site is amazing, and truly a cultural phenomena. Peter has lovingly and painstakingly preserved, and, made available, an entire generation's childhood, which would otherwise have been lost in the digital age. I too had a "rosebud" moment, finding tunes that have nagged at the back of my memory for ages. Better, more accessible, and friendlier than the Library of Congress. Thanks!
David B.
NY, NY
---
I received my "Bozo on the Farm" CD today. I thought I'd never hear those animals ever sing again until I found your website. You can't imagine the pure joy and pleasure I get listening to that story, over and over, just as when I was a little girl. I wouldn't even think to try and erase or cover the hisses, scratches, pops, etc. Those are what make it even sweeter and truer to my memories.
Barb F.
Orlando, FL
---
Three cheers for the Kiddie Rekord King! For 25 years, I've searched for copies of "Robin Hood" and "Songs for Little Folks". I loved these records when I was a little boy, some 60 years ago, but could never find them. Thanks to you, I can recapture my childhood and share these treasures with my 11 grandchildren. I feel like Orson Welles in the last scene of Citizen Kane when he recalls his childhood sleigh, "Rosebud." Now I've found my "Rosebud" at your wonderful website! Thanks so much.
Joe P.
Cincinnati, OH
---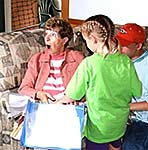 The Perfect "Surprise" Gift: My mom sang several special songs to me as a child. My mom would personalize them to include my name. This made me feel very special...I have since had two children myself who still ask me to sing these special songs. I often thought of finding a copy of (this long lost record) to give to my mom. However, I didn't even know the name of the record - only the lyrics to a few songs. After stumbling across the www.kiddierekordking.com website - quite by accident, I emailed Peter, the Website owner, the beginning of the lyrics to several songs in an attempt to see if this was even a record he might know of. After some quick email exchanges, we confirmed that the record was "Hello, I'm Adeline". I purchased a CD for my mother with the artwork and a copy of the CD for myself. I attempted to explain to my children that this would be the best gift we could ever give my mom, "Grandma Jean"-- the gift of a lifetime. I am so happy to have captured the joy and surprise in my mom's face (as seen in photo at right) when she opened her surprise gift, presented to her by her grandchildren. This moment is something I will cherish always. This is a gift that she can now cherish always too!
Mary Jean B.
Cincinnati, OH
---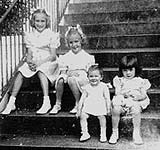 Finding your web site and knowing that there is someone out there who treasures and makes old songs available to the rest of us is fantastic. I am excited about receiving copies of songs from my childhood--Polly Polite, Train to the Zoo and Nothing to Do--were favorites for my sisters and me.[see photo at left; I am the smallest one]. I'm writing narratives about growing up in New Orleans in the 1950s and 1960s. I've just finished the family narrative that I call "Family Songbook" which was why I was so into finding copies of certain songs. I know when I hear those childhood songs again I'll be laughing and crying at the same time. And I know I can find this website again if I need more memorable songs from my past. Thanks so much.
Deborah L.
Montgomery, AL
---
You helped me out by providing me with "The Teddy Bear Picnic" song that I needed for my school in Kazakhstan some time back. I wanted to let you know how much I appreciated it, and I have attached some pictures of my students. Unfortunately, I was so busy with the activities that I didn't really get a chance to take many pictures. However, here are a couple of my second grade teddy bears!
Once again, thank you so much for your help.
Melissa H., Peace Corps Volunteer
Kazakhstan
---
What a treat to arrive back from my two-week vacation to find (the order)in my mail! I gather that you realize just how much I remembered of these songs and recordings….I am very happy that a chance call to the Library of Congress should have enabled me to meet you
Russ P.
Markham, Ontario
---
"I was elated to receive your letter confirming that you indeed did have a copy of Gossamer Wump….it must be rewarding to know that other people appreciate the work and devotion you have for the history of children's records."
Stephen P.
Houston, TX
---
"I am at loss of words what to say to you tonight. I have for so long waited for the moment that I could speak with someone that could in any way respect my importance of hearing once again what was a childhood experience….I can't help but feel envious of you; you hold in your possession one of my deepest dreams, and you too should feel proud that you hold in your files protected the music that molded an entire generation of people, even if they are unaware of the importance of it's influence, and also the past that once was in America, innocence."
Paul S.
Hollis, NH
---
"I got (the order)!! I am sooooo thrilled! It sounded wonderful. The little scratches in the record were even wonderful to me!….I plan on playing it for my grandson."
Judy N.
Ellenton, Fl
---
"I received the (order) yesterday and have already listened to it 3 times! Thank you so much. I am going to surprise my brothers and sisters at Christmas. What memories it brought back and I was surprised how many of the words I knew! "
Sue B.
Sutton, MA
---
"I received my (order) yesterday and am thoroughly enjoying it! I am so thankful for your hobby because I thought I would never hear these songs again."
Alison S.
Bethlehem, PA
---
"I am beyond impressed (with your Website); you have a beautifully designed, incredibly thorough and informative (site), with a wonderful series of pictures I really enjoyed! I really hope your record guide gets published, you truly know your stuff and I'm so glad you are open to sharing your knowledge and collection for everyone. Thank you for all your work on this under appreciated area of record collecting
Andrea W.
Los Angeles, CA
---
"You ARE The Kiddie Rekord King!!!! I just received my order and I can't tell you the flood of memories it brought back. I was fearful that as much as we both agreed that this was what I was looking for, it may not be. How wonderful to have it.
I have not told my mother I located this record, so she is going to really be surprised when I play it on Christmas when my entire family is together. Thank you so much.
Denise D.
Temple, TX
---
We wanted you to know that the "Bozo Under The Sea" came today safe and sound and we are thrilled. My wife has literally been looking everywhere for this record for the past 25 years.
This was our first time ordering anything over the Internet but we were very, very pleased with the outcome.
Dave R.
Littleton, CO
---
Got (my order)…thanks sounds terrific. The Goldilocks is the right one—thought that was gone forever. Thanks for the NO dolby, equalizing, filtering, etc. Sounds exactly like I remember it, even with the scratches.
Steve R.
Seattle, WA
---
Thank you again for the invaluable service you are providing the public. Someone ought to write an article about you in Time or Newsweek.
Tom A.
San Anselmo, CA
---
We can't thank you enough. A very long search has finally come to an end. David's father will be so thrilled and just in time for Father's day.
Ruth J.
Unimville, VA
---
I have to tell you how delighted I am with the….music of "The Twelve Dancing Princesses". It sounded so much like the old records, right down to the little scratchy sounds at the beginning of each record. My husband said I looked just like a 5 year old singing along. I want to have these songs for my grandchildren.
Judy O.
Roseville, MN
---
I'm delighted to have found a source for "Sparky's Magic Piano"….I loved the record as a child n the early 1950s and have searched for it for around four decades! I will refer your name to others seeking reunions with records they heard as children.
Mary E.
Albany, CA
---
You do not know how happy you've made me. I have the HIV virus and I thought that my illness would have over taken me before I had a chance to track down those wonderful little Golden records. However, with your kind help, I am now able to hear the Golliwogs Cakewalk again after all these years. Thank God for people such as yourself that work diligently to preserve records like these….I say thanks again; you've made a very ill person very happy.
Keith S.
Roxbury, MA